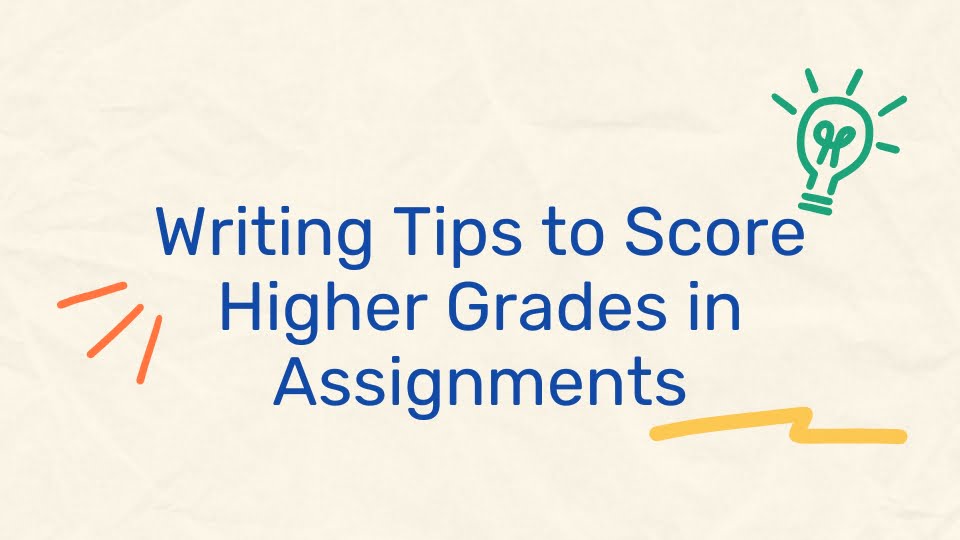 Assignments carry significant value in the field of academics. It helps students effectively learn new concepts and theories. On the other hand, they give teachers an idea to evaluate a student's progress based on their performance in assignment submission. 
Therefore, if you want higher academic grades, you should strive to prepare high-quality assignments with factual information about your subject matter. Otherwise, you may not be able to pass your degree with distinctive grades.
Therefore, this blog post will discuss some basic guidelines to help you write assignments.
Tips to Write Your Assignments Proficiently
Assignment writing is a tough job. Therefore, you must always be on your toes to complete your assignments with phenomenal accuracy. Following are some of the golden instructions that can help you write your assignments eloquently.
Conduct A Thorough Research On Your Topic
It is the first and the most important step of assignment writing. Once you get your topic from your teachers, you should first understand what the topic stands for and what needs to be done to tackle it well.
For that purpose, you should conduct proper research on your topic and collect all the relevant details. This will help you get data about your topic. As a result, you will be able to grasp the basic concept of your topic better.
Discuss Collected Material with Your Teachers
After collecting material related to your topic, go to your teachers and take some insights from them. It will help you clear all the confusion running in your mind about your topic.
Moreover, it will be best if you also ask your teachers about the assignment format. As a result, you will be able to carve out solid questions you will deal with in your assignment.
Furthermore, you will also get to know how to structure your work to make it effective.
Make an Outline
After clearing your ideas and concepts, you should create an outline to manage your data properly. This will help you divide your collected material into parts like introduction, questions, analysis, conclusion, etc. Moreover, you will also get to know for which portion more material needs to be collected.
As a result, you will be able to write your assignments well. Otherwise, you will have to make a lot of changes if you skip some important information in the first place.
Write Your First Draft
Once your information and data collection is finalized, you should write your first draft as per the written outline. Of course, you should expand your article as much as possible because you can eliminate extra information later on. But, if you try to keep your assignment short in the first draft, you will have to rewrite a lot of stuff in the drafts to come. It is so because a lot of information gets eradicated from an assignment when we first review it.
Structure Your Data
After writing your first draft, you should opt for proper formatting of your data to make it look visually pleasing. You should incorporate appropriate font styles and make proper headings and subheadings to create divisions. It will help your teacher understand your written assignment better. As a result, you will be able to significantly impact your teacher's mind, which will help you get good grades on your assignments.
Check Grammatical Mistakes in Your Data
After giving apt formatting to your write-up, you should look forward to checking grammatical mistakes in your assignment. This needs to be done on a priority basis because you can't afford to submit work with basic errors. While manually checking grammatical mistakes, you may be unable to rectify some of them; therefore, it is better to pass your assignment data from an online grammar checker. It will highlight all the mistakes in your assignment.
Following the results, you can quickly correct your errors to make your data error-free.
Several platforms facilitate the users with grammar check services. Nonetheless, if you want to get your hands on one of the most demanded grammar checkers, you can use https://smallseotools.com/grammar-checker/ to check grammar mistakes in your material. 
This tool allows you to check your fallacies in assignments of up to 5000 words for free. Therefore, its free version is enough for your use.
Check Plagiarism in Your Material
The next step in writing assignments is to check for plagiarism in your material because any duplication in your data can seriously damage your academic integrity. As a result, you may fail to score good grades, and even some teachers can decide to fail you in their subjects.
So, it is better to pass your written material through a plagiarism checker to be entirely sure about the uniqueness of your data.
A plagiarism detector highlights even the slightest bit of duplication in your data, intentional or unintentional. Following the results given by the plagiarism tool, you can replace the copied sentences with new ones via paraphrasing. If you need to improve at paraphrasing, you can take help from a paraphrasing tool to finish your work quickly.
Proofread Your Final Drafted Data
Once you are sure that you have removed errors and plagiarism from your article, you should proofread that as a precautionary measure. It will help you find left-out mistakes if there are any.
Moreover, you can also eliminate repeated and exaggerated sentences to remove redundancy in your data. This will provide your assignments brevity, making them look to the point and qualitative. It will result in getting good grades because your teachers will get to know that you have understood the concept better as you wrote that down in a compact manner.  
Read More:
Organize Your Final Draft
This is the last step of writing assignments. After editing and proofreading of every kind, you should organize your final draft by adding references and citations about the sources you used to retrieve information about your topic.
Moreover, you should also revise your final draft to ensure that you have discussed all the relevant points and didn't leave anything behind.
Final Remarks
Following these guidelines, you can write unique and incredible assignments to help you score higher grades.
Moreover, it would be best to remember that there is only a reward for hard work. Therefore, you should complete your tasks with utmost sincerity and interest.