IELTS score | How to calculate? for Academic & General IELTS
What Is IELTS Score System?
The IELTS scale system ranging from 0 to 9 in each skill as well as the total band score. The same scale is used for both General and Academic modules.
Each IELTS module result will be put on that scale and the overall band score will be the net result of the four sections divided by 4.
In the IELTS scoring system, the overall band score will be rounded up to the nearest integer.
In this article, IELTS Game will inform you in details about IELTS reading, listening, speaking, and writing score and how to calculate. 
Suppose your overall score is 6.25, it will be changed to 6.5, and 5.75 will be 6 etc.
For more explanation of how this scoring system works, see this example:
If you visit the IELTS result center web page, you will find your IELTS band score like this:
So overall score = (7.5 +7+7+6) / 4 = (27) / 4 = 6.75 ∼ 7.
IELTS Scores - Band Descriptors .
IELTS score of listening section
The band descriptor of listening section is the same for IELTS general and academic modules:
General & Academic IELTS Listening Score


IELTS scores of Reading section
The band descriptor of reading section differs between general and academic modules as follows:
General IELTS Reading Score


Academic IELTS Reading Score


Writing and Speaking assessment criteria
IELTS scoring system has detailed performance descriptors to assess your writing and speaking tests. These band descriptors describe your performance as follows: 
IELTS Writing score assessment criteria
Task Achievement.
N.B. Task 2 represents 2/3 of the total mark, while Task 1 represents only 1/3.
IELTS Speaking score assessment criteria
Fluency and Coherence.
Lexical Resource.
Grammatical Range and Accuracy.
Pronunciation.
Your final IELTS score will put you in different categories ranging from Expert user to non-user.
The nine bands are described as follows: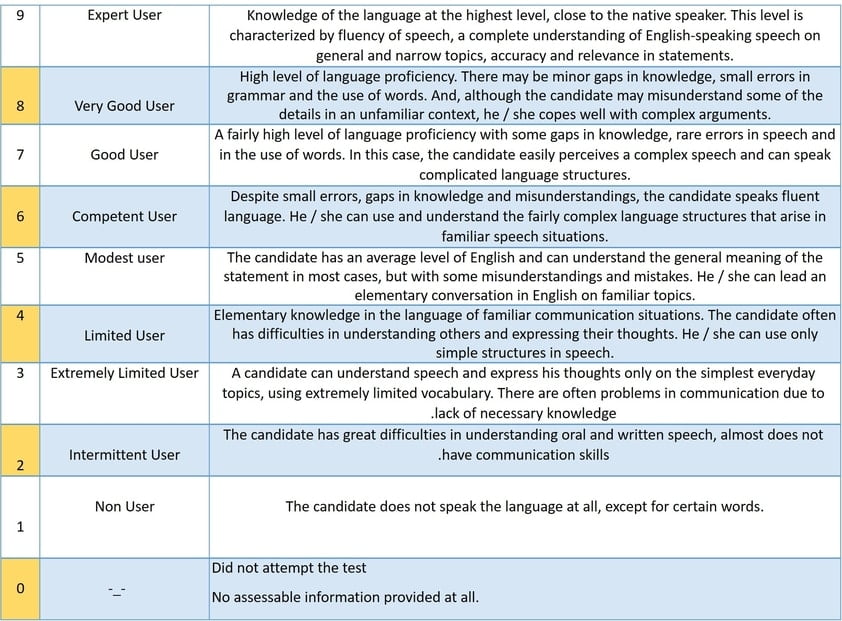 ** Each organization ask for a specific score, so you put this in your mind.
** Another type of IELTS is asked for visa application in the UK called IELTS UKVI.
You will need IELTS UKVI in case of you apply directly for UK visas and immigration.
Who Checks The IELTS Exam Scores?
As a rule, the tasks of Listening and Reading are first checked by a computer, and then by IELTS specialists who have received special training.
Parts of Writing and Speaking are evaluated by individual experts in each field.
IELTS examiners are selected very carefully; they pass regular training and confirm their qualification every two years.
The examiners themselves must pass the test at least 9.00 points during the selection process.