Cambridge IELTS 17 – Free AUDIO & PDF Download 2022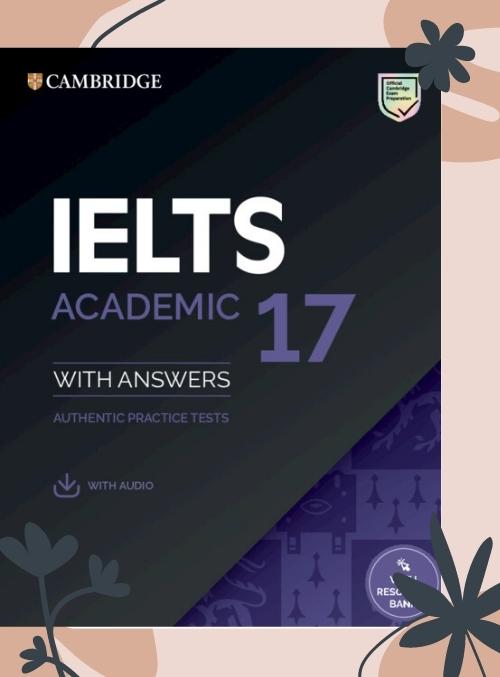 The Cambridge IELTS 17 test set has just been released in June 2022, promising to have many new topics and the test format will follow the content of the real IELTS exam questions. What are you waiting for, let's explore this wonderful book with IELTS Game!
Introducing the book Cambridge IELTS 17
| | Basic information of the book Cambridge IELTS 17 |
| --- | --- |
| Publisher | University of Cambridge |
| Publishing year | 2022 |
| Number of pages | 144 |
| Suitable subjects | To be able to make good use of this book, learners should have a solid English foundation and be at a level (5.0-6.0+ IELTS). |
The book Cambridge IELTS 17 is probably one of the most anticipated books by IELTS students in 2022.
Like the Cambridge IELTS books 9 -16 , the book IELTS Cambridge 17 is published by one of the leading prestigious publishers with IELTS – Cambridge University.
Called a book, but in fact, the Cambridge IELTS 17 book is more like a test set. It only provides Practice Tests (according to the standard format of the real test) and accompanying answers, but does not provide instructions or test tips at all.
This book is suitable for those of you who have equipped themselves with a solid foundation of English, and want to add exam questions to prepare for the IELTS exam.
Detailed review of the book Cambridge IELTS 17
Book layout
If you have done the Cambridge IELTS books before (9-16), then surely you will not be too unfamiliar with the layout of these books. If you are not sure, here is the main layout of the book
| | |
| --- | --- |
| Main parts | Content |
| Introduction | Give some background information related to the book. Also, introduce the format of IELTS Academic and IELTS General Training |
| Practice Test | Provide quality test questions with the same format as real tests for all 4 skills (Listening, Reading, Writing, Speaking) |
| Audioscripts | Give the transcript for the Listening lesson |
| Listening and Reading Answer Keys | Give answers to Listening and Reading exercises |
| Sample Writing Answer | Provide sample answers for Writing (band score ranges from 5.5 to 7.5) |
Cambridge IELTS 17 academic includes 4 practice tests for all 4 skills (Listening, Reading, Writing and Speaking). Each practice test is carefully compiled, so that the test questions have the same format as the real exam. 
Therefore, most IELTS candidates have to practice through the Cambridge IELTS test sets before taking the test, to be familiar with the format as well as to practice their skills.
Details of the book 
Here are the Topics included in the book
Test 1

Listening Section 1

Buckworth Conservation

Group

Listening Section 2

Boat trip round

Tasmania

Listening Section 3

Work experience for veterinary science

students

Listening Section 4

Labyrinths

(Labyrinths)

Reading Passage 1

The London underground

railway

Reading Passage 2

Stadiums: past, present and

future

Reading Passage 3

To catch a king

(To catch a king)

Test 2

Listening Section 1

Opportunities for voluntary work in Southoe

village

Listening Section 2

Oniton Hall

(Oniton Hall)

Listening Section 3

Romeo and Juliet 

Listening Section 4

The impact of digital technology on the Icelandic

language

Reading Passage 1

The Dead Sea Scrolls

(Manuscripts of the Dead Sea Scrolls) 

Reading Passage 2

A second attempt at domesticating the

tomato

Reading Passage 3

Insight or evolution?

(Insight or evolution?)

Test 3

Listening Section 1

Advice on surfing

holidays

Listening Section 2

Childcare

Service

Listening Section 3

Holly's Work Placement

Tutorial

Listening Section 4

Bird Migration

Theory




Reading Passage 1

The thylacine

(Tasmanian Tiger)

Reading Passage 2

Palm oil

(Palm Oil)

Reading Passage 3

Building the Skyline: The Birth and Growth of Manhattan's

Skyscrapers

Test 4

Listening Section 1

Easy Life Cleaning

Services

Listening Section 2

Staff

Turnover

Listening Section 3

Sporting activities at

school

Listening Section 4

Maple syrup

(Maple syrup)

Reading Passage 1

Bats to the

rescue

Reading Passage 2

Does education fuel economic growth?

(Does education promote economic growth?

Reading Passage 3

Timur Gareyev – blindfold chess champion

(Timur Gareyev – blindfold chess champion)
Download Cambridge IELTS 17 Academic
Cambridge IELTS 17 (PDF & Audio)