Download the Official Cambridge Guide To IELTS (Ebook + CD)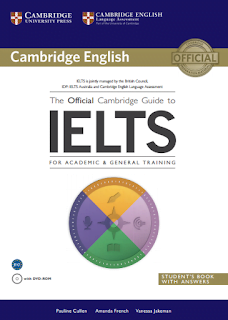 The Official Cambridge Guide To IELTS (Ebook + CD) is one of the most important books for IELTS preparation for Academic and General Training .
The book was published by the Cambridge University to help IELTS students to prepare for the IELTS exam as it contains all they need to ace the IELTS and get band 7 – 8.
Components Of The Official Cambridge Guide To IELTS.
In this book, you will find everything that is required for the successful passing of the test.
The Official Cambridge Guide to IELTS is primarily concerned with the structure of the IELTS test and the various strategies for completing assignments.
This book is your personal guide to IELTS as practice tests have been written by the IELTS exam expert writers at Cambridge University.
The book is divided into two parts:
Components of the first part.
In the first part of this manual, you will get a complete idea of each section of the exam, as well as receive valuable tips for overcoming tasks of different types.
Tasks are chosen so that you get acquainted with each type of questions and improve your skills.
There is a summary of the formula of IELTS exam, then there are four sections dealing with the four English skills tested in IELTS: Listening, Reading, Writing and Speaking.
Each skill is shown in a separate unit with the a lot of  tips and tricks related to this part.
In addition to theoretical material, the book contains a large number of practical exercises for the formation of certain skills for the exam.
Components of the second part.
In addition to step-by-step instructions and tips, the book presents Eight IELTS tests with comments and answers (6 tests of the academic module and 2 tests of the general module).
The first practice test contains hints and reminders to guide you, and at the end of the book, you will find a comprehensive answer key for each exam, as well as the audioscripts for listening part.
Also, if you purchase a full edition in the store, you will have a DVD with video examples of answers to the Speaking part
The best level to start studying the official Cambridge guide.
Students from any level of preparation (starting from 4.0 points and above) can study this book.
It is suitable for students who prepare for IELTS alone through self-study at home and who are integrated into an IELTS preparation course.
The book is also considered as a valuable source for IELTS tutors to share with their candidates.
Also, students who prepare for general or academic module can use this book as it contain exams for both as mentioned above.
How can you use this book in a correct way?
When taking the Practice Tests, use the tips and strategies recommended in the skills units.
You should also try to take the tests under exam conditions and within time limits to prepare for your real exam.
It is highly recommended to collect a hard copy from this book as you will need it for reading and listening section.
You should finish the first part of the book, which contains the IELTS tips and go through each unit in order before taking the Practice Tests as the units order help you to develop your skills.
Remember that this book contains all you need to pass the IELTS test and get 7 – 8.
Download The Official Cambridge Guide To IELTS Ebook + CD For Free
Buy the official Cambridge guide to IELTS from Amazon
1. Getting ready to listen
Understanding the context
Writing numbers
2. Following a conversation
Identifying the speakers
Identifying function
Understanding categories
3. Recognising paraphrase
Identifying distractors
Recognising paraphrase
Selecting from a list
4. Places and directions
Describing a place
Following directions
Labelling a map
5. Listening for actions and processes
Understanding mechanical parts
Describing an action or process
Describing a process
6. Attitude and opinion
Identifying attitudes and opinions
Persuading and suggesting
Reaching a decision
7. Following a lecture or talk
Identifying main ideas
Understanding how ideas are connected
Understanding an explanation
8. Contrasting ideas
Signposting words
Comparing and contrasting ideas
Using notes to follow a talk
1. Reading strategies
Using the features of a Reading passage
Skimming a passage and speed reading
Global understanding
2. Descriptive passages
Scanning for detail
Using words from the passage
Notes/flow-chart/diagram completion
3. Understanding the main ideas
Identifying the main idea
Understanding the main points
Identifying information in a passage
4. Locating and matching information
Identifying types of information
Locating and matching information
How ideas are connected
5. Discursive passages
Discursive passages
Identifying theories and opinions
Matching features
6. Multiple-choice questions
Understanding longer pieces of text
Different types of multiple choice
Identifying a writer's purpose
7. Opinions and attitudes
Argumentative texts
Identifying the writer's views/claims
Identifying grammatical features
8. General Training Reading
The General Training Reading paper
Dealing with multiple texts
Understanding work-related texts.
1. Academic Writing Task 1 – Describing a chart, table or graph
Understanding graphs, tables and charts
More complex charts
Improving your Task Achievement score.
2. Academic Writing Task 1 – Comparing and contrasting graphs and tables
Avoiding repetition
Comparing and contrasting data
Grammatical Accuracy — describing numbers and figures accurately.
3. Academic Writing Task 1 – Describing diagrams
Understanding a diagram
Describing a process — coherence and cohesion
Lexical Resource — being accurate
4. Academic Writing Task 1 – Describing maps
Describing a map
Describing changes in a place
Grammatical Accuracy
5. General Training Writing Task 1 – A letter
Understanding the task
Improving your score
Checking and correcting
6. writing Task 2 – Getting ready to write
Understanding the task
Planning and organizing your ideas
Getting started – writing an introduction
7. Writing Task 2 – Expressing your ideas clearly
Lexical Resource — avoiding repetition
Expressing a personal view
8. Writing Task 2 – Checking and correcting
Developing your ideas clearly
Grammatical Accuracy
Assessing your language
1 The Speaking Test – Part 1
Getting ready to speak
Part 1 — talking about familiar topics
Using the right tense —- Grammatical Range and Accuracy
2. Part 2 – Giving a talk
Understanding the task
Improving Fluency and Coherence
Organising your notes and your talk
3. Part 3 – Talking about abstract topics
Talking about abstract topics
Agreeing and disagreeing
Improving your Lexical Resource score
4. Checking, correcting and assessing
Dealing with problems
Pronunciation, intonation and 'chunking'
Assessing yourself and improving your score
Practice Test 1
Practice Test 2
Practice Test 3
Practice Test 4
Practice Test 5
Practice Test 6
Practice Test 7 General Training Test
Practice Test 8 General Training Test
Recording Scripts Answer Key.
Sample Answer Sheets