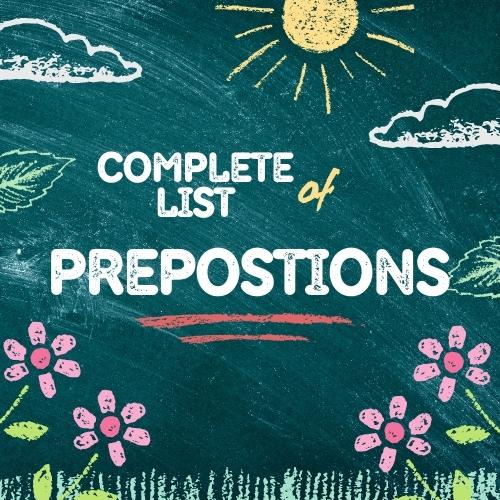 Complete list of prepositions pdf book will help you to master English Language preposition and know how to use it in IELTS test.
Complete list of English prepositions pdf book
Prepositions pose more problems for the non-native speaker or learner of English than any other part of speech. Why? Prepositions are just little words that never change in form; they are pronounced softly, in unstressed syllables; they aren't even given capital letters in book titles; native speakers choose the correct ones without thinking. How can they be confusing?
The word preposition has a straightforward definition: a word placed before a noun or pronoun to define its relationship with another word in the sentence. For the learner of English, however, prepositions are anything but straightforward.
• Prepositions are difficult, if not impossible, to define without using other prepositions.
Example:
In the sentence, "The book is on the table," what does on mean?
On means "above and supported by."
To the Teacher
This book is designed to be used as a reference, rather than a textbook to be followed unit by unit. It is adaptable for use with students of every level of proficiency—from beginners to those who are quite advanced and are seeking perfection. You are encouraged to pick and choose the units that best fit your particular classes—and order them in a way that works with your own approach and teaching plan.
Exercises are included in every part of the book, but you may wish to devise your own instead, or supplement these with types that you know work for your students. Emphasize to your students that proficiency is best achieved through practice of correct usage, both oral and written, and that repeating the exercises can help them internalize preposition usage so that they will feel confident in speaking and writing.
There are explicit instructions throughout that are meant to help students improve proficiency in using prepositions and to get over occasional plateaus, where they feel they are not progressing. When they begin to see the patterns—and follow those patterns—soon they will be using prepositions naturally and will confidently move on to greater proficiency.
To the Student
No matter what your level of English is, use this book to become more familiar with the patterns of English sentences.
Train your ear to hear prepositions in conversations, and your eye to see them when you read. Ask yourself if you know the underlying meaning of each one.
By all means, add new words you hear to the lists in the sections where they belong, and write down new expressions and phrasal verbs as you come across them. Mastering English prepositions is a challenge, but a valuable skill that will
You will have, by the 20th day, mastered the structure, vocabulary, language and style needed to produce a top band in your IELTS Writing Task 2 not many days after.
Despite that efforts have been made to ensure this workbook covers as many of the subjects or topics usually written about in IELTS, it is still not exhaustive. So, read and read wide.
Success in IELTS is predictable once you are able to do the needful. Feel free to contact us.
MORE THAN 60 COMMON PREPOSITIONS
HUNDREDS OF EXERCISES TO SHARPEN FLUENCY
How to use this book?
Read the introduction at the beginning of the book.
If you are a beginning student of English, begin with Part Two.
If you are more advanced, begin with Part One, Part Two, Part Three, or Part Four. You decide.
Do the exercises that follow each unit.
Write your answers on a separate sheet of paper, not in the book.
Check your answers with the Answer Key on p. 299.
If you have mistakes, write the correct answers down, and make sure you understand them. Repeat the exercises until you have no mistakes.
Repeat the exercises at different times in the future. This will help you memorize hundreds of expressions, correct usage, and perfect word order.
Download Complete list of prepositions pdf book
Related articles: